Jurassic World: Dominion Dominates Fandom Wikis - The Loop
Play Sound
Red Magic
The evocation and control of energy. With this power, you might summon a breeze, light a fire, or call a distant object to hand.
Blue Magic
Blue is the colour of change. That is, altering what is already there. Not creating, not destroying. It is commonly used in conjunction with other magical styles in order to perform alchemic transmutations and othe alterations of essence. Blue magic can also be used to change the effects of an existing spell, to cast or dispell illusions, or to change locations without movement through intervening space.
Green Magic
Magic of life. Affects living creatures - you can encourage your subjects to grow in the direction you prefer. Life has its own flow. You can change it, but the harder you push, the more energy you need.
Black Magic
Has nothing to do with death or evil. Black is the colour of weight, solidarity, and permanence. Black magic is the magic of enchantment in physical form. All wands and things like that are created with black magic. This does mean that cursed items are enchanted with black magic as well.
White Magic
White magic is the tool you use to access the spiritual realm. Ghosts. Dreams. Creatures from other planes. The thoughts of those around you. With white magic you can experience and communicate with things that are normally hidden. Since many spells in this school only work on living creatures, this school is particularly useful in Exams 4 & 6, but several spells have uses in other dungeons as well. Exams 3, 4 and 6 (if you allow the Opponent to open the door for you) are soluble using only white magic.
Combination Magic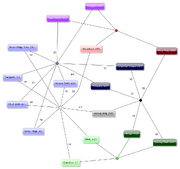 By using the power of two or more colors together, more powerful spells can be created. Note that some magic schools, i.e. Blue and White, are inherently more synergistic than others, for example Red and Green.
Note that any spell will not actually be learnt at least one skill point is gained in the primary required skill for the spell, while all other skill requirements for the spell in question are satisfied. If you have not learned a spell that you fulfill the skill requirements for, just take some classes in the primary color, and it should pop eventually. New spells can be learned this way even if the primary color skill is already maxed out at 100.